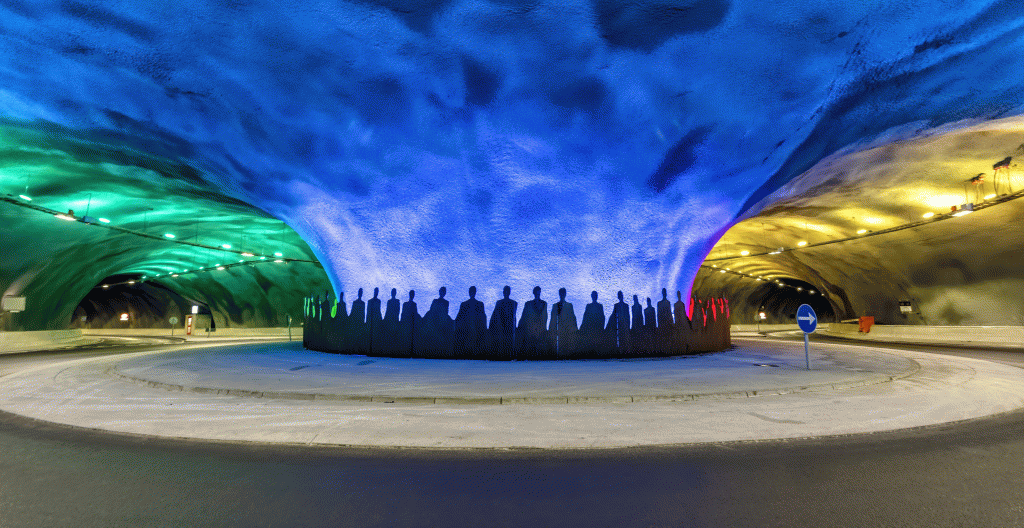 The sub-sea tunnels link a large part of the Faroe Islands together.
Vágatunnilin connects the western island Vágar, where the Airport is located, to the central island Streymoy, where the capital Tórshavn is located.
The 4,9 km long Vágar tunnel opened for traffic in December 2002 and was the first sub-sea tunnel on the Faroe Islands. If you arrive by plane and plan on visiting other islands besides Vágar, you will need to drive through this tunnel.
Norðoyatunnilin connects the northern island Borðoy, where Klaksvík is located, to the eastern island Eysturoy, where you will find several top attractions such as Gjógv, Tjørnuvík and many more.
The Norðoya tunnel is 6,2 km long. It was the second sub-sea tunnel and opened for traffic in April 2006. Eysturoyartunnilin opened as the third in December 2020 and links central Streymoy and eastern Eysturoy with a total length of 11,4 km.
The Eysturoyar tunnel is a two-laned undersea tunnel that has three tubes which meet 72,6 metres below the surface at the world's first, and only, undersea roundabout!
Aside from this unique feature, the appearance is striking looking like a giant jellyfish, illuminated with shifting aquamarine lighting and surrounded by life-size dancing figures symbolizing the traditional Faroese chain dance.
The tunnel passages are handled digitally with camera operated license plate registration and will be registered automatically to the car rental invoice at the end of the rental.
This map shows the locations of the tunnels and the passage costs. See map.